As the studio has been re-opened for a while, and COVID-19 cases have been rising in BC, we want to assure you that your health and safety is the most important to us.
In addition to elevated cleaning measures, and reduced classes sizes in compliance with BC Public Health Officer, Dr. Bonnie's Henry's guidelines we have implemented the following additional changes and procedure to our classes to ensure your health and safety: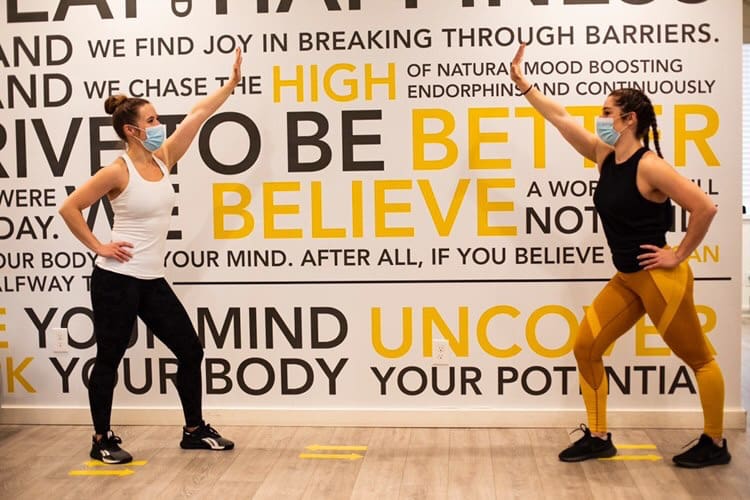 1) Individual Workout Stations
In order to promote social distancing and limited sharing of equipment, we have marked off individual workout stations in the group fitness area. Each station is complete with your own set of TRX straps and a cleaning basket for personal and post workout equipment sanitization.
2) Smaller classes.
Classes will be capped to 10-12 people in order to ensure adequate spacing between members.
3) No sharing of equipment.
We will no longer be running partner training classes or high contact classes like boxing and will be avoiding the use of additional equipment aside from the TRX at this time.
4) Guided Floor Plan.
We have marked off the group fitness and personal training area with a guided floor plan. Please follow the guided markers to ensure 6 ft of physical distancing while locating your workout station for the class. Adhere to the reminder signs about keeping 6 ft of physical distance at all times.
5) Mandatory hand washing.
We have added hospital grade hand sanitizer at the front entrance for your convenience. As a safety protocol everyone is required to wash their hands before and after class. Instructors will be responsible for cleaning the TRX handles and mats before and after class.
6) Lockers will no longer be available for storage.
Please bring only the essential items you need for class and consider a small plastic baggy or waist bag to hold your keys and cellphone, which will stay with you at your station for the duration of the class.
7) Inside shoes only.
We will also add a coat rack and shoe cubby at the bottom of the stairs for the winter.
8) One way entrance and exit.
Members will be required to enter through the front entrance and exit through the True Physio + Pilates entrance. Please arrive no earlier than 5-10 minutes before class, and exit as soon as class is over to minimize the amount of people in the studio at one time.
9) Limited use of washrooms.
No more than 2 people will be allowed in the wash room at one time.
10) Continued online classes.
For those who are working from home or do not feel comfortable coming to the gym at this time, we will continue to run at home virtual workouts for you to perform on your own. Email us at info@trueconditioning.com to get started.
11) Wear a Mask
To protect yourself and others in the studio, please wear a mask before + after the class. Once you get to your dedicated station you may remove your mask. Masks are also required in all common areas!
Our community is our biggest priority. We promise to remain diligent during this time to ensure you feel comfortable and safe in our space. As developments continue to be made, we will keep you updated with any further changes and developments.


Sophie Manfredi, Owner
– True Conditioning